The Smallholder Coffee Development Project (CODE-P) contributes to the inclusive and sustainable development of the coffee value chain for improved incomes and nutrition status of smallholder farmers, with a special focus on women and youth, in the Southern Highlands of Tanzania.
By late 2023, the project had already shown the following impressive outputs:
Production and Productivity – 17,023 farmers of whom 13,122 are adults and 3,904 are youths.
Post-harvest Management – 23,618 farmers of whom 11,223 are adults and 12,395 are youths.
Financial Inclusion – 19,582 farmers of whom 10,240 are adults and 9,432 are youths.
90 coffee primary cooperatives have been reached with rehabilitation of 60 Central Pulping Units (CPUs).
The project has supported 75 government extension officers with training on Sustainable Agriculture Land Management practices and other sustainable coffee farming techniques.
The project has strengthened collaboration and coordination of coffee value chain actors to improve the performance of the coffee subsector.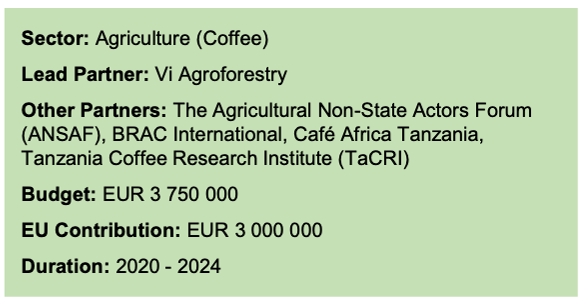 Baseline Findings (2019 - 2020)