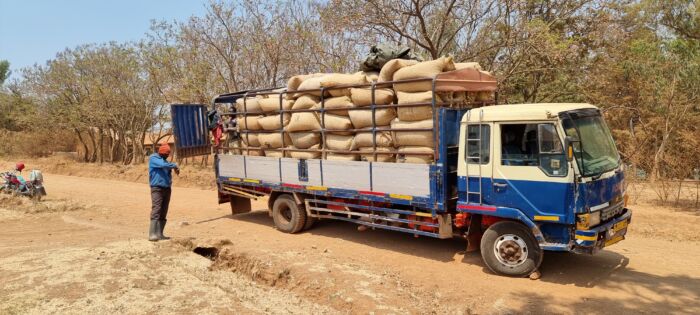 Iyula AMCOS Celebrates Success of CODE-P Project.
A farmer holds a handful of processed coffee bean in Southern Highlands, Tanzania
Vi Agroforestry Tanzania successfully marked the implementation of the Coffee Development Project (CODE-P) in the Southern Highlands. The project continues to contribute inclusive and sustainable development of the coffee value chain to better the income of smallholder farmers in the region. Since its launch, the project has enrolled over ten thousand coffee farmers in 39 Agricultural and Marketing Co-operative Societies (AMCOS) ahead of its 4-year plan to reach 24,000 smallholder farmers. Farmers in the region have benefitted from this project through Sustainable Agricultural Land Management (SALM) practices. By applying these modern farming practices, they have seen an increase in coffee yields, income, and improved livelihoods all while conserving the environment.
The Vi Agroforestry Tanzania team met with Iyula AMCOS following a successful reception of the EU delegation in Mbeya Region. The Ambassadors of the EU, Belgium, Denmark, Italy, the Netherlands, Poland, Spain and Sweden held a one-week visit to the development projects funded by the EU and by its Member States in the Southern Highlands. This visit came during the blooming coffee flowering season.
Samora Mnyaonga (right), a Café Africa CODE-P project coordinator & partner canvasses with William Mswima (left), Iyula AMCOS chairperson in front of flowering Arabica bushes.The team also met with Raphael Mswima, a 35 years old smallholder coffee farmer and member of Iyula AMCOS. Raphael is a member of Iyula AMCOS since 2018, married and blessed with 4 children. In 2008, Raphael planted 1000 coffee trees which currently produce around 1 kg of coffee beans per tree in a year, double the average yield in his region but still nearly half the average yield in other regions of Tanzania. Low coffee yield in the Southern Highlands is highly factored by the old trees and poor farming practices despite a favourable environment and climate. AMCOS supports farmers like Raphael by providing agricultural inputs and training them on sustainable agricultural practices for pest & disease control to maintain quality of coffee yield. Iyula AMCOS has so far succeeded in the rehabilitation of their Coffee Processing Unit (CPU) to process and store coffee beans before selling to Coffee Tanzania Limited. The CODE-P project resource intervention has already seen an increase in yield quality from the July and August harvest season.
The future of coffee farming in Tanzania faces a huge challenge due to lack of youth engagement in these practices. This can be castigated in the current average age for smallholder farmers raising food security concerns. However, CODE-P is working to engage the youth in the coffee value chain and has successfully reached 4,655 in total including 1,863 young women. "We need to educate youth on sustainable practices to understand that coffee farming can be profitable" said Raphael. He continues, "you can make money out of it and have a good livelihood" urging the youth to partake in the CODE-P project.
The CODE-P project team looks forward to the next 3 years partnering with AMCOS to improve coffee yields and better livelihoods in the region. "In the next 3 years we will continue distributing improved coffee seedlings and training farmers on Sustainable Agricultural Land Management Practices," said Kent Larsson, Tanzania Country Manager. He adds, "We will also focus on mobilising the youth to join our project with emphasis on food security and a better livelihood."
CODE-P is a project under the AGRI-CONNECT programme funded by the European Union and the Government of Sweden.
AMCOS is an Agricultural and Marketing Co-operative Society. CODE-P aims to work with 60 AMCOS's in the Ruvuma, Songwe, and Mbeya regions of Tanzania. AMCOS's are how we reach our smallholder farmers and how alongside partners we disseminate our intervention. We are working to empower these AMCOS's to provide and disseminate agricultural inputs (resources which increase crop success), technology and information to at least 24,000 smallholder farmers in their local communities from 2020-2024.
This post is produced with the financial support from the European Union through AGRI-CONNECT Programme. Its contents do not necessarily reflect the views of the European Union.
This article is republished from Vi Agroforestry website. Read original article.