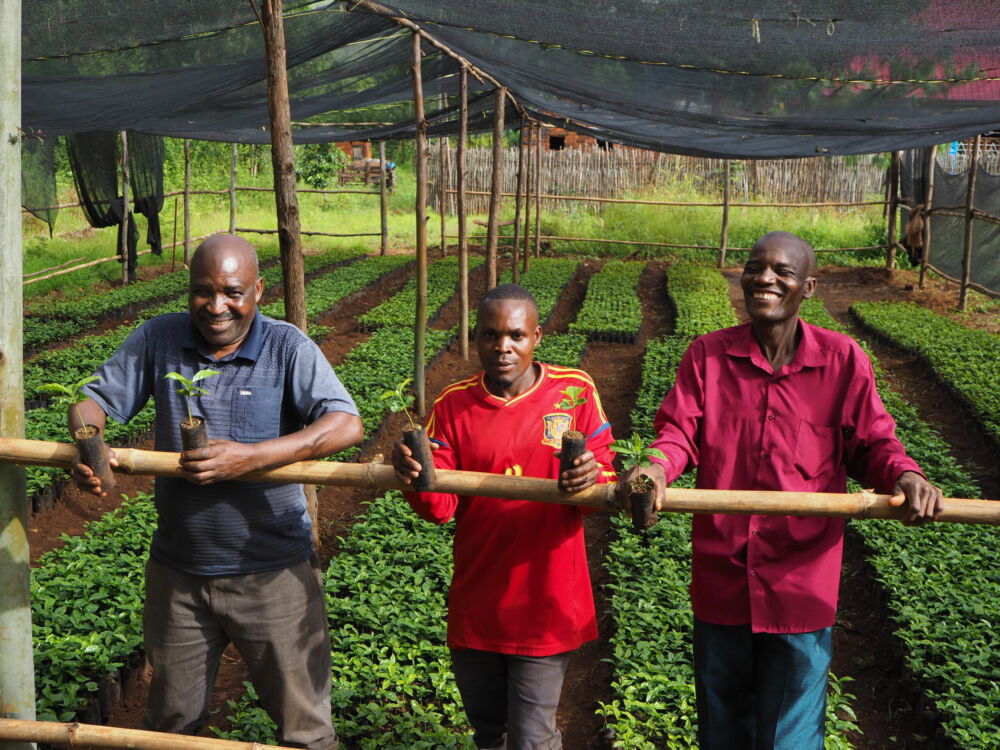 Youth farmers teach older farmers how to set up coffee business.
Beno, Erick and James are members of Jitegemee Group from Mbinga District in Ruvuma Region, Tanzania.
The Smallholder Coffee Development Project (CODE-P) enters its final year of implementation and is seeing successes beyond its direct project beneficiaries. During a recent visit to the field Vi Agroforestry met with Jitegemee group to hear how the young are teaching the old to set up their own coffee seedling nurseries. CODE-P has been engaging youth to establish seedling nurseries in the Southern Highlands to increase productivity of the coffee value chain under the European Union's and Ministry of Agriculture's AGRICONNECT programme.
Beno, Erick and James are members of Jitegemee Group from Mbinga District in Ruvuma Region, Tanzania. "Jitegemee means "rely on yourself". We picked this name because all members aim for self-sufficiency through enterprise" says Beno, the group have internalized this mantra well with the formation of two enterprises in the last year.
Jitegemee Group started as a Village Savings and Loans Association (VSLA) after receiving training from the CODE-P project. The group has 30 members (13 male and 17 female); and are all smallholder coffee farmers.
What is a VSLA?
A Village Savings and Loans Association is a community-based group which meets regularly to contribute savings to a joint pot which they can apply for loans from with interest rates more favorable than the bank and without collateral needed which many smallholder farmers don't have to offer.
When they saw their neighboring CODE-P youth group start a coffee seedling nursery after training from the project, they were inspired to start their own coffee seedling nursery. The improved compact coffee seedlings which are resistant to pests and diseases are in such high demand with little supply in the Southern Highlands of Tanzania, so they saw this as a great business opportunity.
Jitegemee decided to invest their own money from their savings group to buy the seedlings and start the nursery with some mentorship and guidance from the neighboring youth group.
As seasoned coffee farmers with many years of experience under their belts we asked if learning about how to start a seedling nursery from a youth group was hard to take, their response:
"Education has no boundaries. "
The youth group taught them how to care for the seedlings and how to make it into a viable business. Within one year they have already managed to grow 37,000 seedlings. They plan to start selling their seedlings soon as they reach maturity.
The group didn't stop there and has now expanded to include a beekeeping and honey project with 8 hives with the goal to reach 20 hives this year.
The success of Jitegemee Group shows how community collaboration and training on forming savings groups for smallholder farmers can open doors to enterprise and livelihood opportunities.
However, the group also faces challenges such as a shortage of potting tubes and netting, which are expensive and difficult to access. They lost a lot of seedlings due to the lack of potting tubes, and they are exploring the use of sustainable potting tubes made of natural materials.
Despite these challenges, Jitegemee Group remains determined to succeed. They believe that coffee farmers need to be innovative to succeed. In just one month, four people approached the group and expressed their desire to join. The group encourages them to start their own groups with their mentorship so they too can be self-sufficient.
CODE-P is a project under the EU funded AGRICONNECT programme aiming to support value chains for shared prosperity in coffee, tea and horticulture. CODE-P has additional funding from Sida. Vi Agroforestry implements this project in partnership with ANSAF, BRAC, Café Africa and TaCRI.
This post is produced with the financial support from the European Union through AGRI-CONNECT Programme. Its contents do not necessarily reflect the views of the European Union.
This article is republished from Vi Agroforestry website. Read original article.