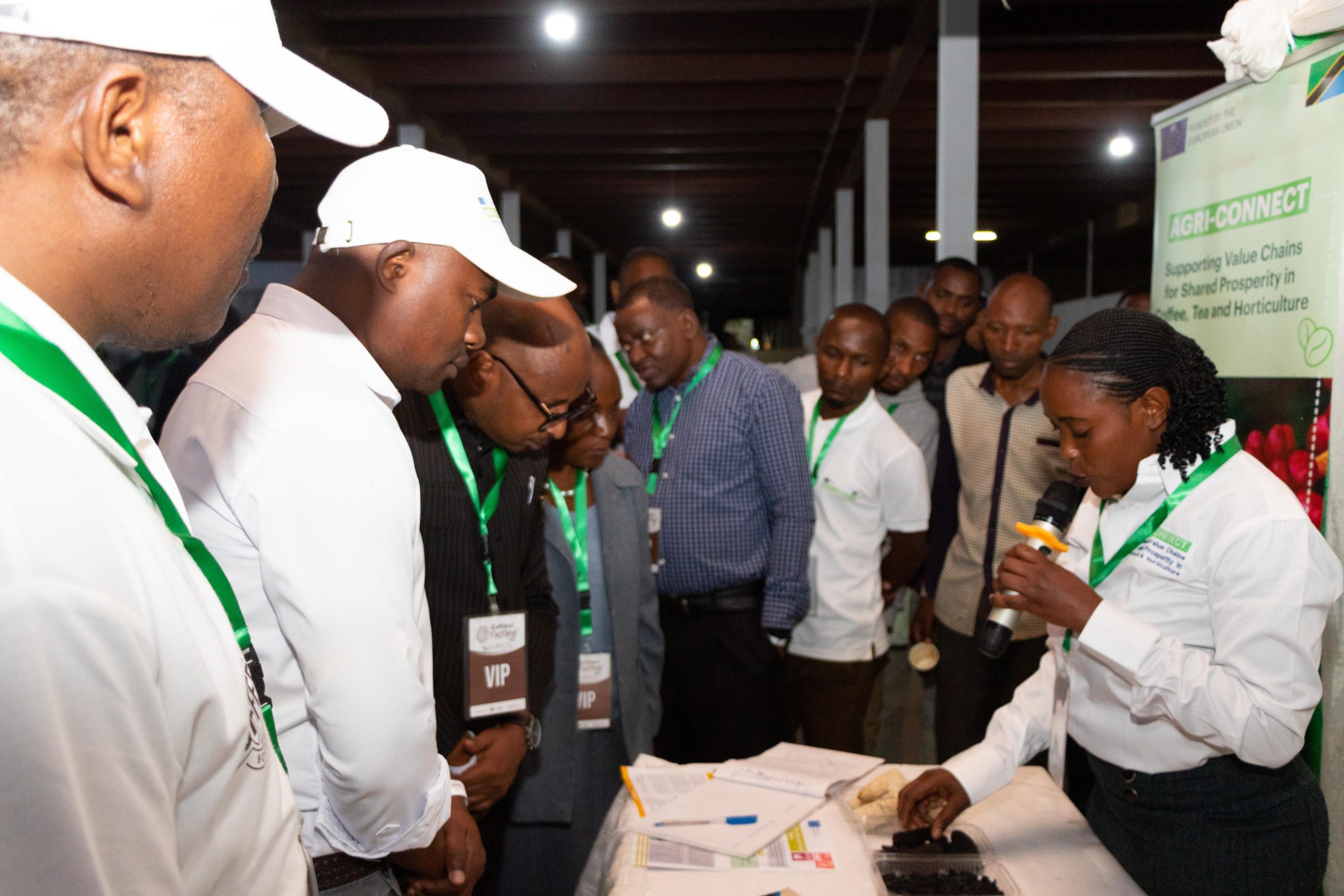 Why AGRI-CONNECT will increase coffee productivity in Tanzania.
By Lyamuya Stanley.
The European Union (EU) – funded AGRI-CONNECT Programme has organized and staged a one day national level Coffee Conference to support the country's coffee industry.
Themed 'Sector Enablers and Business to Environment Related Barriers to Effective Coffee Marketing in Tanzania', this conference was held at the Tanganyika Coffee Curing Company (TCCCO) Limited Conference Hall here in Moshi on Friday 28th September.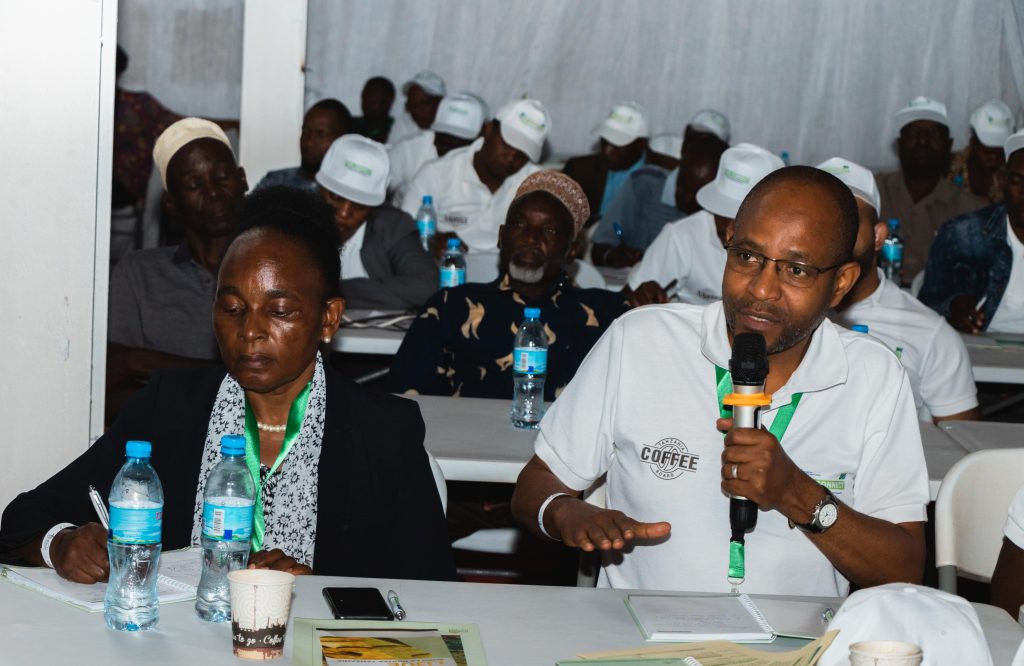 It was well attended by various stakeholders inclusive of Local Government Authorities (LGAs) 's officials,, Agricultural and Marketing Cooperative Societies (AMCOS), coffee traders, farmers, staffs from Tanzania Coffee Board (TCB) and the Tanzania Coffee Research Institute (TaCRI).
Also in attendance were distinguished invited guests this conference witnessed a total of four papers being presented, discussed and recommendations being derived all aiming at unlocking business environmental issues which undermines marketing of country's coffee.
Opening up this conference was the Chairperson of the Board of Directors of TCB, Professor Aurelia Kamzora started by thanking the Ministry of Agriculture for bringing up AGRO CONNECT who are experts on how to support the coffee value chain through their various analysis which have come up with a number of market related challenges facing the value chain actors who have received limited policy, institutional and regulatory related attention.
She also thanked all other stakeholders drawn from 17 coffee growing regions in the country for supporting the coffee sector adding that what remains is to discuss various papers to be presented in respective conference all aiming at enabling the country's coffee to compete I the world market.
With this in mind she call upon all participants to the conference to discuss thoroughly all papers to be presented so as to come up with suggestions to the government on how coffee can compete in the world market the same aiming at giving the country's farmers competitive prices.
Tossing the ball in presenting papers in this conference was Dr Laurent Kaburire who presented a paper titled Decentralization versus Centralized on line coffee auctions.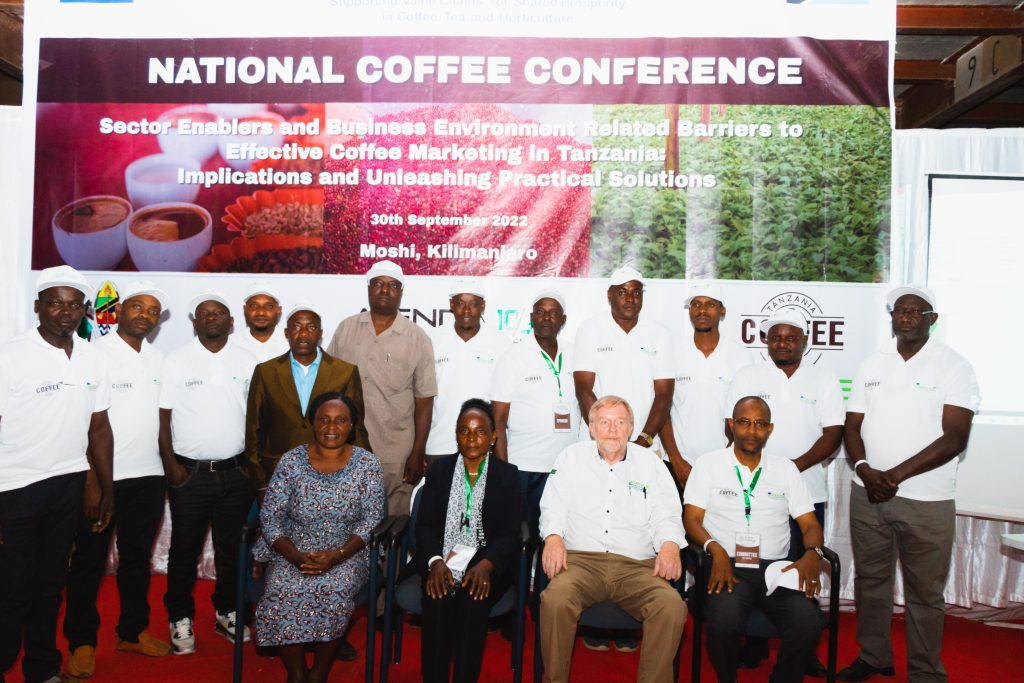 Through this paper Dr Kaburire outlined to participants on a study which have come to suggesting to the government to have a pilot on line coffee auction in Kagera, which have proved to be a successive story as both buyers and farmers are happy with its outcomes.
Dr Kaburire in his recommendations suggested to the government to start a national on line coffee auction to be stationed in Dar es salaam whereby it would be easy to conduct it as Dar es salaam Port is used by many exporters of coffee, home to offices of many coffee buyers the same easily reached from all corners of the country.
Second in presenting a paper in this conference was Mr Justin Mogendi with his paper titled Movement of Coffee across LGA's to the end market, and the problems associated with such movements.
Mr Mogendi stated that in some LGAs there were some problems encountered while transporting coffee while in some LGAs there were no problems recorded therein.
He clearly stated that where obstacles were present the same aimed at safeguarding public interests in banks, producers, cooperatives and other actors.
"In some areas across the country obstacles in movement of coffee was inevitable as if not present curing plants will collapse as they will have no coffee to cure. Allowing free transportation of coffee from one LGA's to another will also record a decrease in cess taxes, other revenues to certain district council," he stated in his paper.
Through his paper Mr Mogendi recommend for the review of this directive to have a balance benefit in both the government and the private sector; allowing coffee movement among LGA's without affecting any actor in the coffee marketing; government and other key actors to encourage more production of coffee while also improving coffee markets by giving competitive prices to producers.
Mr Leonard Kiwelu from TaCRI presented in this conference the third paper titled Home and CPU-based coffee processing as drivers for quality coffee based on Arabica coffee.
Through this paper Mr Kiwelu stated that there are mainly two ways whereby coffee is processed naming the as the home hand where's manually operated wet, dry and semi processing is done and in Central Pulpery Units (CPU's) whereas power is used to process the said coffee.
He clearly stated that CPU's are more advantageous in the sense that the same derive mass coffee with uniform quality always giving farmers competitive prices when compared to the home hand processed coffee adding that CPU's again reduces very much post harvests losses when compared to the home hand method.
He further stated that although CPU's are of much more advantages still their use by small holders farmers is still minimal due to reasons as poor infrastructure, lack of skilled personnel, low coffee production, lack of operating capital and the fact that CPU's ownership is in general not conducive all leading to a situation whereby in some places installed CPU's are lying idle.
Through his recommendations he stated that CPU's are very much recommended however, this should go in hand with addressing all challenges therein.
Mr Kiwelu paper drew the attention of many participants to this conference as while discussing it many were of the opinion that the government must make it a must for all coffee to be processed through CPU's just like in Uganda, Kenya and Rwanda where's farmers get very competitive prices when compared to Tanzanian farmers.
This reaction by participants to make it a must for all coffee to be processed through CPU's prompted the TCB Acting Director General, Mr Primus Kimaryo to intervene and make clarifications.
The TCB Chief stated that it is not possible to make the use of CPU's a must at the present moment as the main problem here is coffee production in terms of quantity first.
"There is no way we can force this in the country. The only thing is for us to increase coffee production as CPU's need big volumes of coffee and not otherwise. For the time being we should allow both CPU's and the Home Hand processing of coffee to both prevail" stated the TCB Boss.
Lastly in presenting papers in this conference was an official from Tanzania Coffee Association (TCA) , Mr Noel Yatera with his paper titled Coffee Pricing Mechanism.
Through this paper r. Yatera clearly stated that coffee prices are derived from New York and London coffee exchange both for Arabica and Robusta coffee respectively.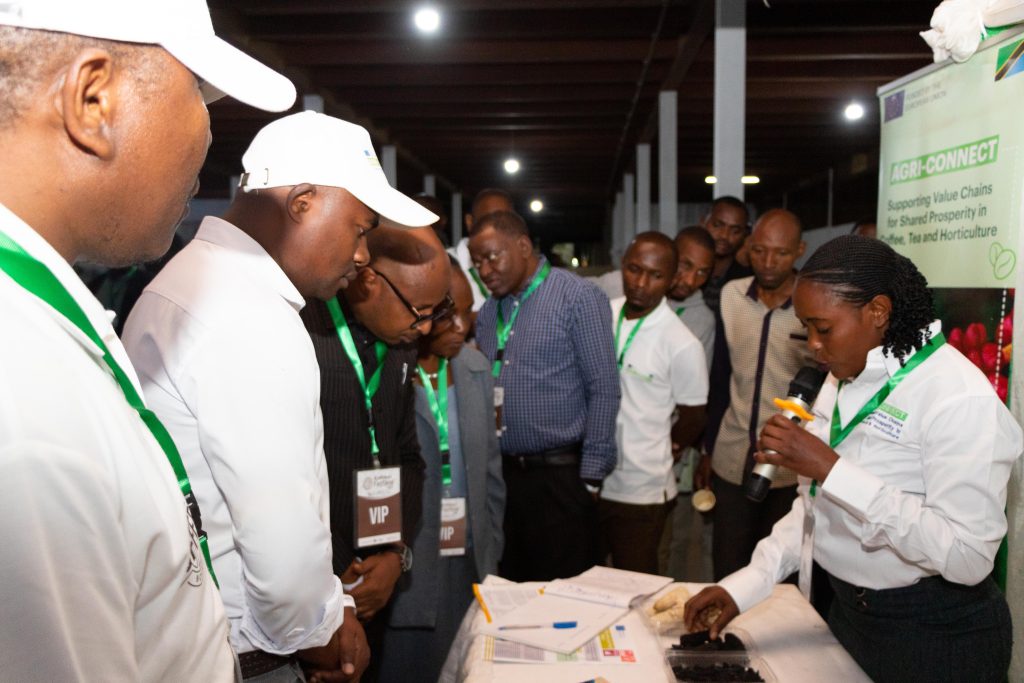 He stated that farmers in the country should be encouraged to sell their coffee when prices in New York and London are favorable and whenever possible farmers should wait a bit until such prices are competitive. and to this he stated that TCB reserve prices of coffee should bear in mind the future market trends in New York and London.
This conference ended up by letting the Secretariat draw all recommendations' passed later to submit them to the government tasked with formulating policies which will enable marketing the country's coffee to be more effective.
This article was produced with the financial support from the European Union through AGRI-CONNECT Programme. Its contents are the sole responsibility of the author and do not necessarily reflect the views of the European Union.
This article is republished from Daily News. Read the original article